A few words about me
"You must be a perfectly organised person" – this is what many of my newly met clients say after our meetings. Of course, they are right! I know my value and appreciate honesty, so I can confirm their words with a clear conscience: YES, I am a perfectly organised person! Maybe that is why I love organising things.
I always used to take initiative in preparing, planning and leading various projects. I enjoy travelling both near and far. Every time I go for a trip, I plan it ahead, read about places worth seeing and create an unusual adventure for me, my family and friends. I always try local traditional cuisine, stay away from commercial tourist attractions and visit less popular yet charming places. Which place would I like to see again? Perast in Montenegro, for sure. Where would I like to go in near future? I would visit the Philippines. I like to work (and plan things) looking at my wooden map of the world.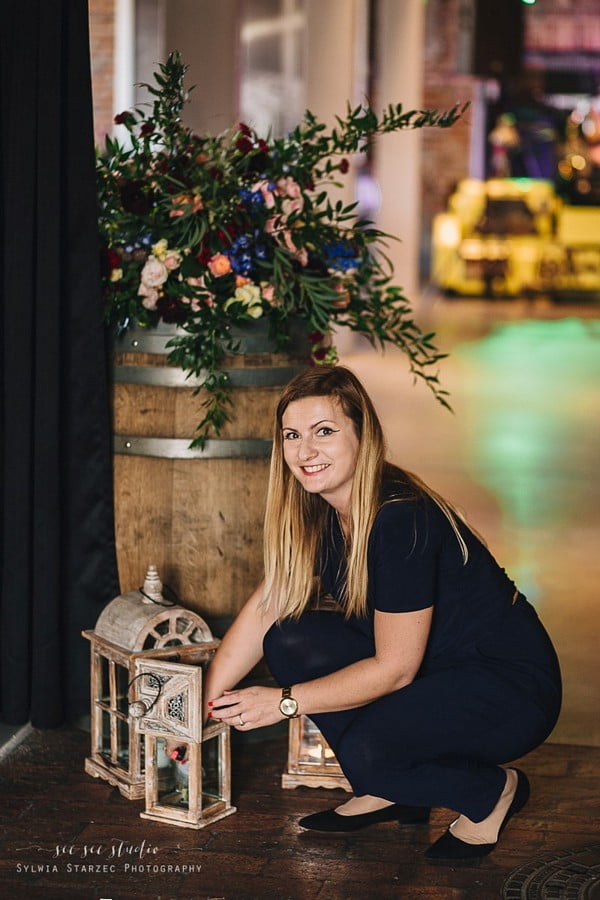 My experience in wedding planning
Professionally, I coordinate projects and manage a team. I gained experience by working on business projects for years and obtained the Prince2 (Foundation & Practitioner) certificate in project management. However, kind words I hear from the couples who let me organise their wedding ceremonies and receptions are the best credentials. Behind the scenes, every wedding is a complex project, which requires effective management and coordination of numerous elements to put them all together and create a perfect whole.
As a wedding planner, I am fully engaged in everything I do and I pay attention to the tiniest details

I believe that every detail matters, both in my private and professional life. That is why I genuinely care about the tiniest details, which contribute to the final result of my work. Custom invitations, a wedding theme, stationery accessories, venue and table decorations, flowers – all these small things, which can be easily missed, create a unique atmosphere on your big day.

I scrupulously analyse contracts and negotiate necessary changes to effectively manage suppliers and monitor your wedding budget

Leading business projects taught me to be cautious and vigilant when reading a contract. Apart from that, I learned to negotiate, which is a useful skill while preparing a wedding. If you want to forget about all tedious formalities, analysing contracts with a sharp eye on nuances and legal tricks, settling accounts with suppliers, just leave it all to me and focus on more enjoyable aspects.

International wedding? No problem!

I would be more than glad to help couples who do not live in Poland and want to organise their weddings there. I am fluent in English and German, so we will communicate with no barriers and prepare your wedding schedule without misunderstandings.

As a wedding planner, I enjoy working with people and making their dreams come true

I am fully engaged in every project, no matter if I organise a wedding reception from the scratch or just give a piece of advice. I love working with other people. I am truly enthusiastic and passionate about everything I do and I put my heart into every task. People and their dreams really do matter for me and I can help make them come true. Organising various unique wedding projects is something I like most in this job. And the best moment comes when I see the happy faces of the newlyweds.